Top Pet Adoption Statistics - Editor's Choice
4.1 million animals in America get adopted each year, 2 million dogs and 2.1 million cats respectively.
The number of animals that enter shelters annually is 6.3 million, of which 3.1 million dogs and 3.2 million cats.
920,000 of pets in shelters are euthanized every year. 
90.5 million households in America own a pet. 
Delaware is the first state to have a no-kill shelter policy.
10,000 puppy mills operate across the U.S.
Senior cats and dogs are least likely to get adopted from shelters.
Adoption fees for pets differ greatly, ranging from $50 to $300.
General Adoption Statistics
Adoption is widely regarded as the preferred method of adding a pet to your family. It has increased in popularity with more people adopting pets from shelters than ever before, a trend that is expected to continue in the coming years.
About 70% of all American households own a pet. Around 63 million have at least one dog and 42 million have cats.
23% of the dogs taken in by families or individuals come from animal shelters, comparatively just 6% are taken in as strays from the streets. However, 34% of dogs are bought from breeders or puppy mills, and another 20% come from friends and family. 
Statistics for cats paint a much different picture. 31% of cats are taken into families from pet shelters, 28% from friends and family and just 3% of cats are taken from breeders. It's interesting to note that compared to dogs, 27% of cats get adopted into families as strays from the streets.
Countries with the Highest Number of Cats and Dogs
The U.S is known for having the largest number of dogs and cats in its territory and households. Currently this number includes 76 million dogs and over 95 million cats. The runner ups in both categories are China with 27.4 million dogs and 53.1 million cats, and Russia with 12.5 million dogs and 17.8 million cats.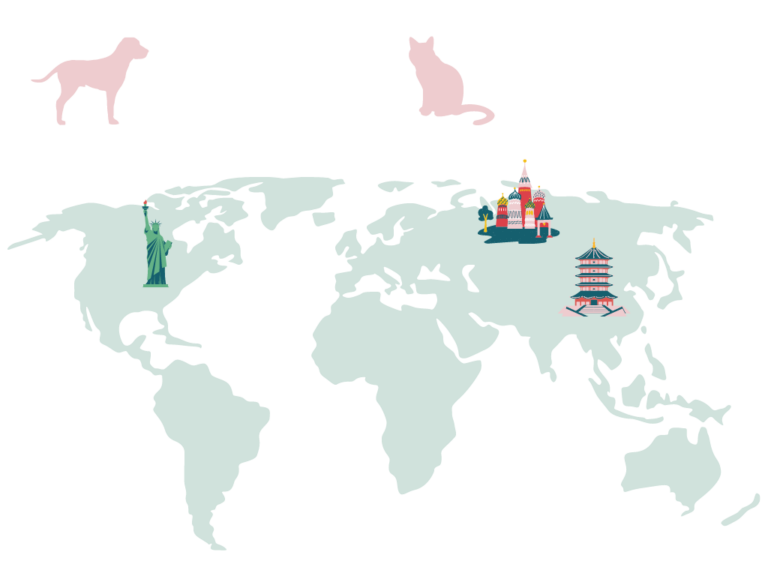 Animal Shelter Statistics
Sheltering animals has come a long way from what it used to be just a couple of years ago. From being overcrowded and in poor conditions to gaining 'no-kill' status, the progress made in the last few decades is to be commended.
While the number of cats and dogs at shelters is still high, there has been a drastic decrease from the 20+ million that it used to be back in 1973.
By 2021, the number of no-kill animal shelters in the U.S doubled to 48%, compared to the previous 24% it was in 2016. In 2019, Delaware became the first no-kill shelter state in the U.S.
The number of pets that currently live in underserved communities across the U.S is 22 million. 88% of them are not spayed or neutered. 69% of them have never been checked at a vet.
The number of brick-and-mortar shelters spread across the U.S is estimated to be around 4,404 as of 2021. Meanwhile, the yearly sum spent by animal control organizations ranges from $800 to $1B.
Statistics show that around 10,000 animal sanctuaries and animal rescue organizations operate in the U.S. About 10,000 puppy mills also operate in the U.S. This includes both unlicensed and USDA-licensed mills.
Every year, 810,000 stray animals that are taken into shelters get returned back to their owners. Out of all the states, only 20% require shelters to report their adoption data on a yearly basis.
Of all households in America that own pets, 61% have more than one animal, be it in the same species or not. Estimated annual expenses for owning a dog can range from $1,500 to $9,000.
Shelters and Pet Euthanasia
A notable feat is the fact that the number of healthy and adoptable cats and dogs euthanized each year has been on a steady decline. However, it still remains a problem across the country with varying degrees of severity.
Shelters with most recorded euthanasia cases in the U.S are located in:
Currently, the euthanasia rates are at a historical low, with fewer than 750,000 healthy pets being euthanized every year.
The rest of euthanized cats and dogs are either deemed as a danger to their environment or suffer from untreatable medical illnesses.
The practice of euthanasia has been on a significant decline, especially in bigger cities where it's now 75% lower than it was just a decade ago.
The overall number of shelter animals that get euthanized each year hovers around 920,000. 390,000 of the animals euthanized are dogs and 530,000 are cats. 
Common Reasons for Pet Abandonment
There are many reasons why pets get returned back to shelters or are abandoned entirely. Usually, this is due to no fault of their own. Studies show that one in ten pets that get adopted will no longer be in their adoptive home in after six months. About 75% of cases in which pets are surrendered for adoption by their owners are related to human issues and only 8% of these cases are attributed to the personality of the pets themselves.
Some of the Most Cited Reasons for Abandoning a Pet
More expenses than anticipated
Health complications for the human
Disobedience, Barking, Hyperactivity and Aggression
Fostering is another common phenomenon which refers to providing a temporary home for animals before they get adopted. Data for 2020 show that 54,500 pets in total were fostered during the year. The percentage of dogs that were fostered increased to 17%. Comparatively for cats, the fostering rate reached 8%.
Most and Least Adopted Animals
Unfortunately, there are specific breeds of animals that are more prone to being abandoned at shelters or that have a lower rate of adoption from shelters. For cats, the lowest adoption rate among them is for black cats. The reason for this is preconceived notions and cultural superstitions.
Dog Adoption Rates Based On Age
Cat Adoption Rates Based On Age
Dog Breeds Most Likely to End Up in Shelters
Some of the reasons why these end up being the most common breeds in shelters are as follows: stereotypes regarding the nature of the dogs, overbreeding for commercial purposes, needing more attention when taking care of them compared to other breeds etc. Statistics show that among all dog breeds, Pit Bulls & Chihuahuas are the two breeds most likely to get euthanized by their shelters. 
What Does the Future Hold?
Pet overpopulation has drastically decreased, especially when compared to what it used to be back in the 1970s. During the '70s, it was estimated that shelters across America would euthanize anywhere between 12 to 20 million cats and dogs annually. Comparatively, the number of pets during the 70s was around 67 million, meanwhile today that number has reached 135 million.
The rising rates of pet adoption indicate that change in our social and economic climates have had a positive impact on adoption statistics. While it's hard to predict the route of adoption rates, if trends continue the way they have historically, pet adoption will see no slowing down in the coming years.